In the last two weeks of September, there had been a perceptible sense of excitement, a buzzing of sorts among a particular community.
In the last two weeks of September, there had been a perceptible sense of excitement, a buzzing of sorts among a particular community. And no, it wasn't because of the return of the F1 races to Singapore after COVID-19 slammed the brakes on life in general. It was the arrival of a certain Olympic champion on our shores.
For climbing fans who have been catching Janja Garnbret on the International Federation of Sport Climbing (IFSC) World Cup circuit via YouTube – and no doubt, marvelling at her prowess and dominance in these world-class competitions – seeing her in person was a unanimously "surreal" experience.
Looking every bit she does on screen – blonde ponytail, lithe but powerful limbs and those steely blue eyes peering from underneath a cap – the 23-year-old Slovenian climber walked into Boulder+ at The Chevrons with her coach Roman Krajnik, fresh from winning the season's last lead climbing world cup in Jakarta and securing the women's overall lead climbing trophy for 2022.
This was an athlete who became eligible for IFSC lead climbing and bouldering competitions at age 16 in 2015 and as of September, had already garnered 37 world cup titles and 56 podium finishes.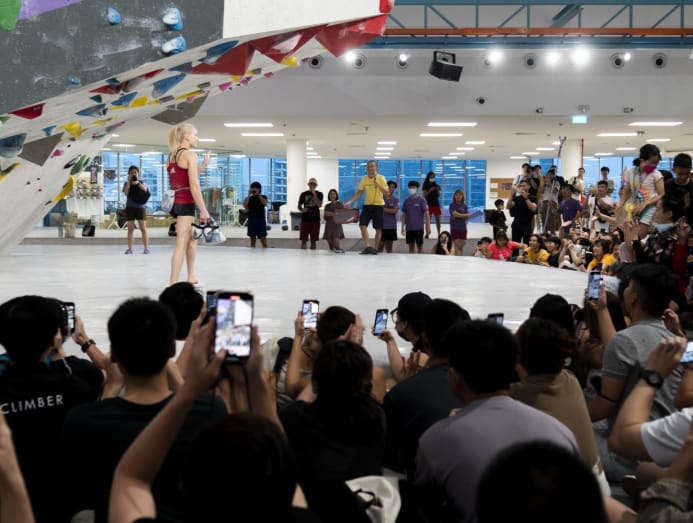 A few months after becoming an Olympic champion, she became the first woman to onsight 8c – a grade and feat accomplished only by a few men in the world. Next on her list is the famous Spanish route, La Dura Dura, which has only been climbed by two others (climbing luminaries Adam Ondra and Chris Sharma, if you're wondering) so far.
But for all her accomplishments, the fan-dubbed GOAT (that's Greatest Of All Time to the uninitiated) isn't without her losses. Just this year, she missed out on two gold medals in Edinburgh, Scotland, and on home ground in the Slovenian city, Koper. In 2018, her gold-winning streak was broken when she took silver at the Salt Lake City world cup.
"SHE'S AN ICON, SHE'S THE GOAT"
The 300-strong crowd that congregated on a weekday night to watch her boulder with four of Singapore's top climbers cheered, whooped and pleaded for more as she swung from slopers, grabbed pinch holds on the fly and made scaling up a 70-degree incline look like child's play.
It was a showcase of her mastery over strength, balance, flexibility and dynamism – the key aspects of climbing, be it bouldering or lead climbing. And certainly, a rare chance to witness her signature leg arch in person, which she famously uses to counter dynamic movements that threaten to pull her off the wall.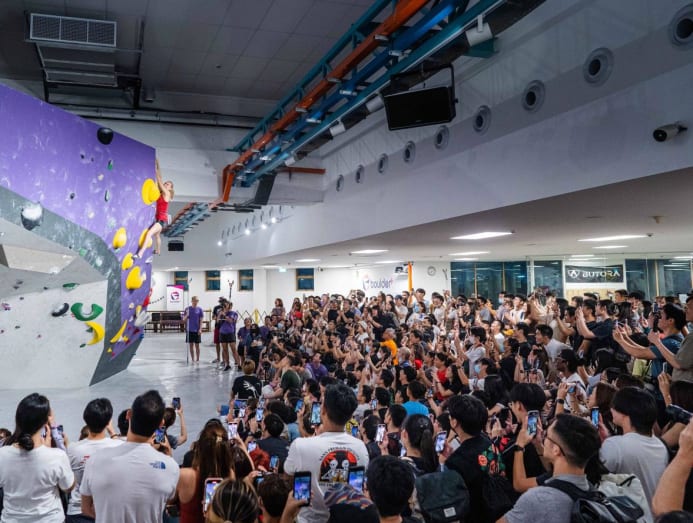 "She is already amazing on the monitor when we watch her. Seeing her in real life is super amazing as you get to see her moves in 3D," said Grace Ng, 26, a consumer insights analyst. "And it really illustrates how good she is at what she does. For me, it's been very inspiring."
For Ranvir, a 17-year-old international student, it was akin to meeting his superhero in real life. "My friends and I look up to her. She's an icon, she's the GOAT, as we call her."
Even those who weren't that easily won over by an impressive medal tally warmed up to her, especially after attending one of her two workshops held over the next two days. "I was actually very impressed with how dedicated she was in helping the participants with a climbing problem," said Soemoe Swe, 32, a Singapore-based cyber security engineer.
"It actually took quite a bit of effort to move her from one route to another because she was so invested in helping an individual overcome one particular problem. That says a lot about her character," he said.