Ukrainian generals claim they have breached Russia's formidable first line of defences in the south, as the counter-offensive launched earlier this summer may be poised to gather pace.
Since June, Kyiv's territorial gains have been very small – but is Ukraine finally at a turning point?
"Yes, it's true," says Yuriy Sak, an advisor to Ukraine's defence minister, when asked if the breach had happened.
"Little by little, I think we're gaining momentum," he said.
"We are now between the first and second defensive lines," one of Ukraine's top generals in the south, Brig Gen Oleksandr Tarnavskiy told Britain's Observer newspaper.
His words echoed those of the White House spokesman John Kirby, who on Friday told reporters in Washington that Ukrainian forces had "achieved some success against that second line."
The focus of Ukraine's counter-offensive effort in recent weeks has been an expanding bridgehead around the tiny village of Robotyne, some 56km (35 miles) south-east of the city of Zaporizhzhia.
Ukrainian forces raised the country's blue and yellow flag over the village more than a week ago, and are now trying to widen the gap to allow larger infantry and armoured units to pass through without coming under Russian fire.
If that can be achieved, there is a chance Ukraine's offensive can gain momentum as it approaches second and third defensive lines, which may not be quite as robust as the first.
Fighting has been reported east of Robotyne, on the edge of the larger village of Verbove, but like everything so far, it's slow, painstaking work.
A glance at the map shows a mass of overlapping, complex Russian defensive lines, complete with minefields, tank traps and trenches. Some of them converge at Verbove.
Without air cover and in the face of sometimes withering Russian artillery fire, small Ukrainian units have been clearing a way through these hazards, preparing the ground for a larger assault.
"When these openings appear, of course, it makes it easier for our forces to advance," Mr Sak said.
The fog of war
It is hard to assess the significance of the latest claims. Ukrainian officials are extremely tight-lipped when asked for precise details, preferring to allow the fog of war to shroud Kyiv's intentions and extremely reluctant to avoid releasing sensitive information.
It does not help that the forces closest to the fight sometimes give very different accounts of what is happening at the front.
Approached by the BBC on Saturday, Ukraine's 46th Air Assault Brigade said fighting was continuing near Russia's first line of defence, but that "no one has yet managed to go beyond the first line."
This may be less surprising than it sounds. A plethora of units are operating up and down the front, each concentrating on their own narrow section and specific tasks. They do not necessarily know what is going on elsewhere.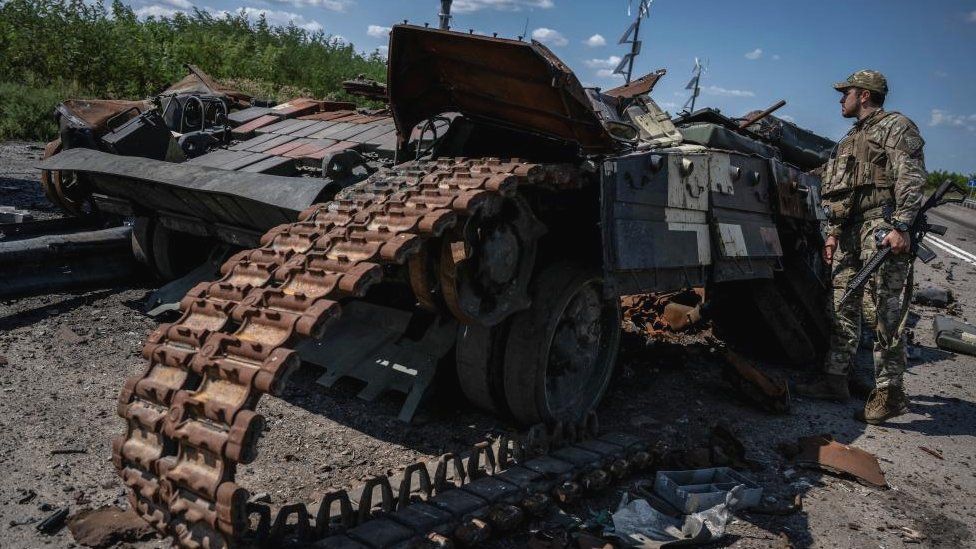 One of those units, a volunteer battalion known by its commander's call sign "Skala", told Reuters news agency that its men had broken through Russia's first line on 26 August.
On Sunday, Skala told us his men were still pushing forward.
"Literally, we are moving along the Zaporizhzhia region to the sea," he said in a voice message, without giving further details.
"I don't want to rush ahead, but both we and the General Staff are doing everything for the fastest victory."
Hard as it is to gauge the precise nature and direction of Ukraine's recent gains, it is clear that the Kremlin is alarmed.
It has recently sent elite troops from other parts of the long front line to bolster defences between Robotyne and the key road and railway hub of Tokmak, 21km to the south.
According to the Washington-based Institute for the Study of War (ISW), this is the third time since June.
"The second lateral deployment in the span of a few weeks suggests an increasing Russian concern about the stability of Russian defences," the ISW reported in its assessment on 1 September.
This, Ukrainian experts claim, is part of Kyiv's plan: forcing Moscow to move front line units from one place to another in an effort to wear them down.
"We're trying to involve their reserves and exhaust them," says Serhiy Kuzan, of the Ukrainian Security and Cooperation Centre, a Kyiv think tank with close ties to the military.
The next job, he says, is to exploit any sign of Russian weakness.
"The main thing is to widen this bridgehead," he says. "There won't be any orders to go deeper until we do that."
Despite the apparently glacial progress of the offensive since June, Mr Kuzan says the fundamental objective has not changed: control of the south.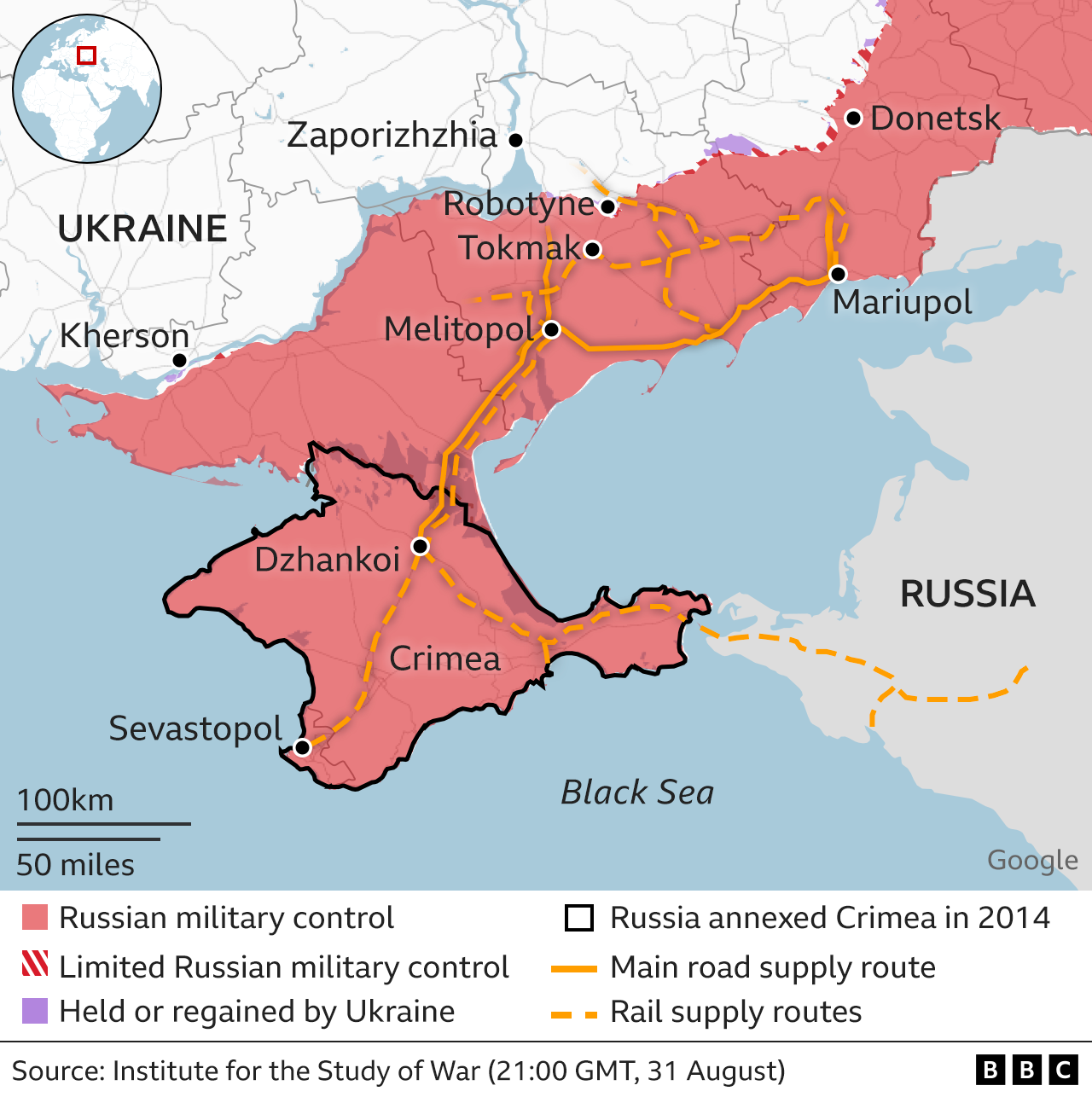 What that looks like by the time winter arrives is an open question.
Ideally, Kyiv would like its forces to have reached the Sea of Azov, cutting through Moscow's "land bridge" to the Crimean Peninsula.
But even if this does not happen, Ukraine is determined to cut the supply lines that allow Russian forces to maintain a presence in the southern part of the Kherson region, between the Dnipro river and Crimea.
Some of those links, including the railway that passes through Tokmak, are already highly vulnerable to Ukrainian long range weapons, such as the Himars multiple rocket launcher.
With the other key rail link – the one across the Kerch Bridge – the target of repeated Ukrainian attacks since last October, Mr Kuzan says Russia is transporting 70% of its supplies along the M-14 highway, which runs closer to the coast.
"We have to get the land route… under fire control," he says, meaning that Ukrainian guns need to be close enough to be able to target the road.
That's still a distant goal.
The M-14 is still more than 80km away. There are multiple Russian lines of defence, and Ukrainian forces will be attacked from the ground and air every step of the way.
Another glance at the map shows that Ukraine's territorial gains, since June, have been tiny.
Kyiv's first encounter with Russia's well-entrenched defences was always going to be among the hardest phases. It may be some time before we know if the breach at Robotyne represents a turning point.
"Tough battles are to be expected," Mr Kuzan adds.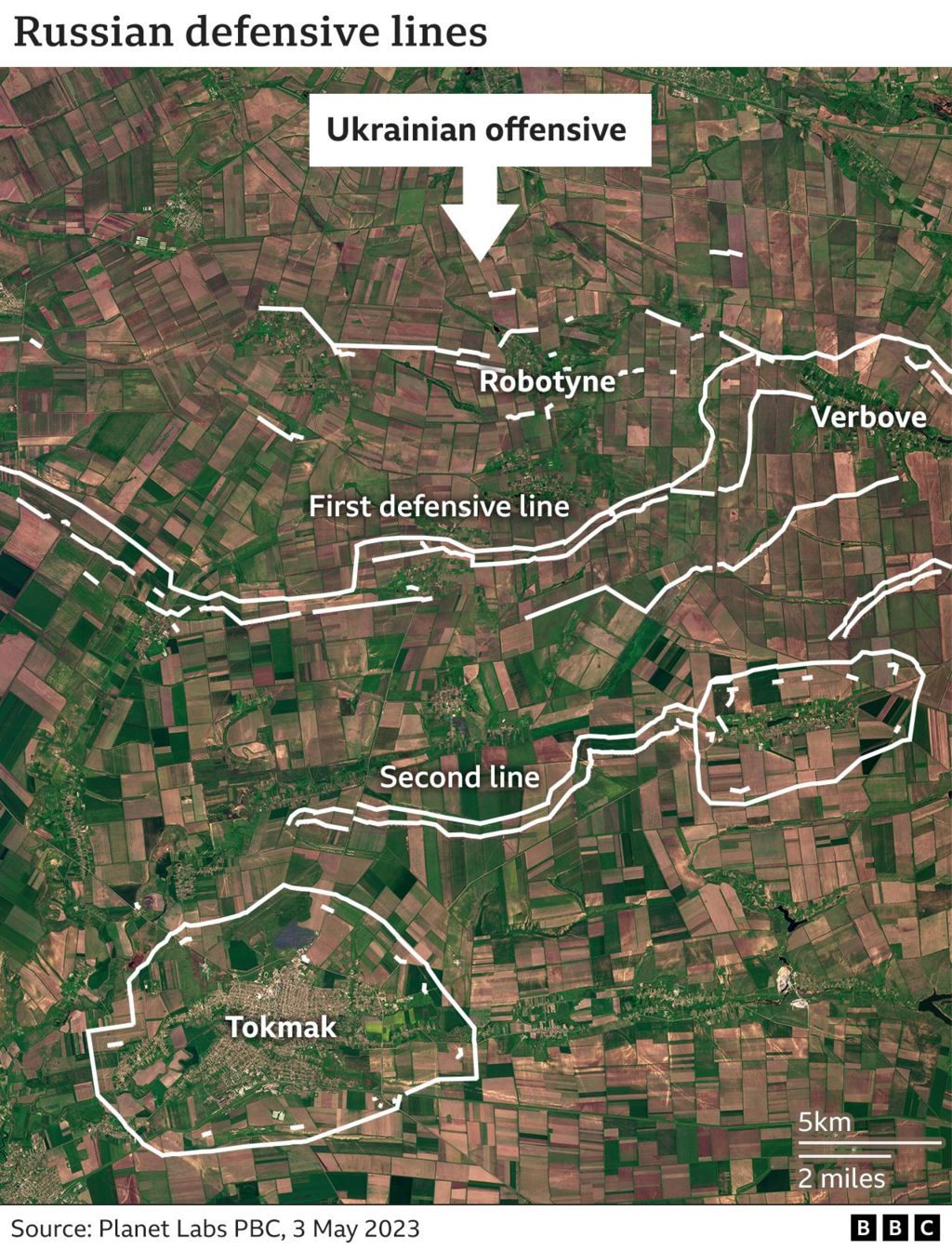 Source : BBC