Ukraine has used US-supplied long-range missiles for the first time, President Volodymyr Zelensky has said.
His comments follow reports the weapons, known as ATACMS, destroyed nine helicopters at Russian bases in the east of the country. Ukraine has not confirmed the missiles were used.
Ukraine said an air defence system and other equipment were among the targets hit in Berdyansk and Luhansk.
Dozens of Russian troops were killed or injured in the operation, it added.
"They have performed very accurately. ATACMS have proven themselves," Mr Zelensky said in an evening address posted on social media, without giving details of when or where they were used.
Russia's military has not commented.
The Biden administration had previously refused to provide ATACMS to Ukraine, but had decided "in recent weeks" to send them quietly, US media outlet CNN reported, quoting two US officials.
It said that Washington wanted to take Moscow by surprise, in case Russia moved equipment and weapons out of reach before the projectiles could be used.
Because of concerns about tensions with Russia, the missiles provided to Ukraine have a lower range than the maximum the system is capable of, according to the Associated Press.
The variant delivered to Kyiv carries cluster munitions which release hundreds of small bombs from the air rather than a single warhead, AP reported.
Cluster munitions are controversial and are banned by more than 100 states due to their threat to civilians.
Vladimir Rogov, the Russian-appointed governor of the occupied part of Zaporizhzhia region, said air defence systems "successfully intercepted enemy rockets" over Berdyansk, adding that information about casualties and damage was being checked and would be provided later.
But an unverified video on a pro-Russian social media account – said to have been filmed in Berdyansk – appears to show explosions and flying rockets, while a voice explains that an ammunition dump has been hit.
Another Russian blogger has written of an attack on an airfield with ATACMS rockets, inflicting what the author described as a "serious blow", with losses of people and technology.
ATACMS did not appear in a list of military aid for Kyiv published by the US in September.
But unverified pictures posted on social media Tuesday suggest the Russian bases were hit using the early MGM-140A variant of ATACMS – a shorter-range version of the family of weapons with a striking distance of around 100 miles (160km).
In particular the contract number stamped on the side points towards a contract for missiles that was due to be completed by 1997.
Kyiv gaining the ATACMS systems represents a significant boost to its abilities to strike deeper into Russian-held territory.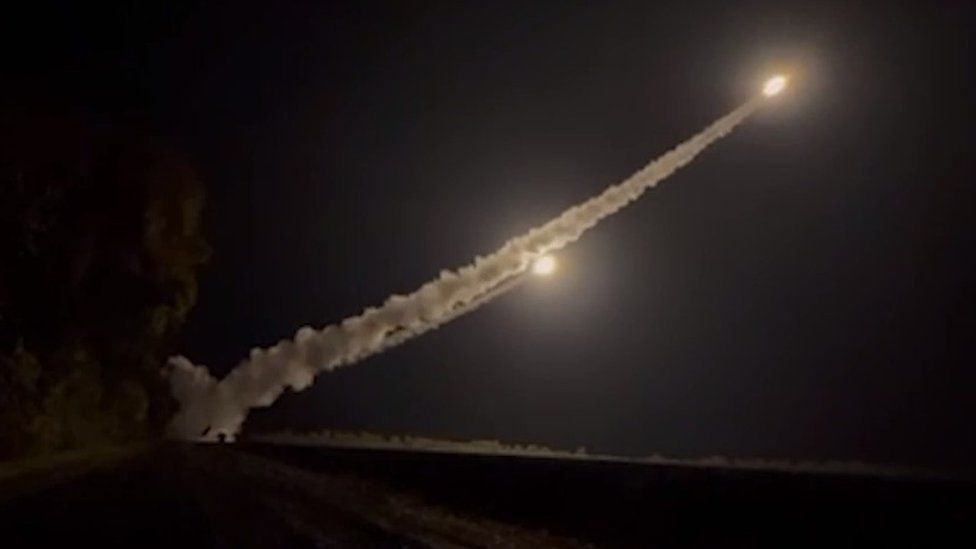 The Ukrainian military said the attack on Berdyansk happened at 04:00 local time (01:00 GMT) and on Luhansk at 11:00 local time.
Berdyansk is approximately 85km (53 miles) from the nearest front line, and is strategically important because it stands between Mariupol and Crimea. Luhansk is almost 100km from the front line.
Clashes have continued to be reported along the front line, including around the Ukrainian-held towns of Avdiivka, Kupyansk and Lyman, which have been coming under heavy bombardment from Russian forces in recent days.
Ukraine's emergency services say a dormitory building has been destroyed in a Russian attack on the eastern city of Slovyansk, with two people believed to be trapped under the rubble.
In Odesa, the authorities say debris from Russian drones that were shot down has damaged a yacht club and several yachts, but caused no casualties.
Ukraine has been trying to take back territory occupied by Russia in the east and south of the country through a major counter-offensive, but has so far made slow progress.
It has also made frequent air attacks on Russian positions as it aims to undermine Moscow's war effort.
Russia has also been attacking Ukrainian positions in the east around Avdiivka and Kupyansk, but according to Ukrainian reports has suffered heavy casualties in recent days.
Source : BBC