While Barbie continues to achieve box office success around the world, the film's performance in South Korea has been lacklustre, with critics and activists citing a reluctance to embrace a feminist-themed foreign movie.
Barbie sold just over 460,000 tickets between 19 July, when it hit screens locally, according to the Korean Film Council. The film's opening weekend received only an 8% share of total box office revenue and just 3.9% for the second weekend.
In comparison, Mission: Impossible – Dead Reckoning Part One has sold over 3.6m tickets since its release on 12 July. Pixar romance Elemental has sold more than 5.8m, making it the most successful foreign film of the year, after it opened on 14 June.
South Korean women's rights activist Haein Shim said the film's themes might have turned off cinema-goers. "I think Barbie undoubtedly highlights the fact that a women-centred film with feminist humour is still regarded as a taboo subject.
"Women might be hesitant to go watch the film. The fear of being labelled as a feminist in South Korea is real.
"The word 'feminism' has become a dirty word to a lot of individuals in Korea, and people are unwilling to recognise – and are uncomfortable confronting – the deeply rooted patriarchy that has driven society for so long," she said.
South Korea remains deeply patriarchal and scores poorly for gender equality among advanced nations. The country has the worst gender pay gap among OECD countries and has consistently ranked last on the Economist's Glass Ceiling Index, which measures where women have the best and worst chances of equal treatment at work.
Women often face strong societal pressures to give up their careers after childbirth, and sex crimes against women are rampant in a criminal justice system that often appears to give light sentences to perpetrators.
Yoon Suk Yeol, now the country's president, disavowed the label of feminist when he was running for office. He has previously suggested feminism was to blame for the country's birthrate, currently the world's lowest, and stated that South Korea has "no structural gender discrimination".
Film critic Youn Sung-Eun said South Koreans may agree on gender equality in principle, but there are factions within the conservative society that strongly oppose what they perceive as "radical feminism".
"In this context, Greta Gerwig's gender equality education is not very appealing," said Youn, who has completed a doctorate in film studies, on some of the potential reasons for its underperformance. "Since Barbie is intended to be an entertaining movie, presenting such sensitive themes prominently might not resonate well."
Ahead of Barbie's release, localised Korean versions of the posters were missing the original iconic slogans "Barbie is everything" and "He's just Ken". They were simplified to and showed only the characters' names. This sparked criticism for allegedly undermining the film's female-empowering message. After the criticism emerged in April, Warner Brothers Korea said the move was not intentional and that it had focused on just the images and names of the character during the early stages of its promotional campaign.
In recent years, feminism in South Korea has morphed into a negative concept associated with radical behaviour, a perception that has gained traction in popular male-dominated online communities, and now in wider society.
According to a 2019 survey by local media outlet SisaIN, 62.3% of men in their 20s do not believe feminism is a movement to achieve gender equality. Some 78.9% of men in their 20s agreed with a statement that it was about "female supremacy".
South Korea was ranked 99th out of 146 countries in the World Economic Forum's Global Gender Gap Index in 2022.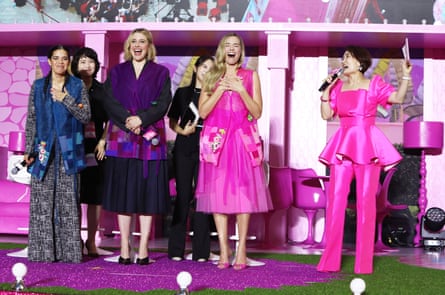 Local female-led films still a drawcard
Jason Bechervaise, a local film critic and researcher into the Korean film industry, said the underperformance of Barbie compared with western markets was not surprising.
"Some female-driven films have struggled locally, and anti-feminists will undoubtedly attack such films, but I don't see this as the only reason Barbie is not performing here," he told the Guardian.
"In fact, the locally produced Smugglers, which features a big female cast, is topping the local box office," he said, referring to the crime action film about freediving women who lose their jobs and turn to smuggling. The film has already attracted more than 2 million viewers since coming out on 26 July.
"Korea is a unique market – some films like Elemental overperform, while others do the opposite, which we are seeing with Barbie. This is also true of films like Star Wars, which are closely connected to American popular culture but do not perform well here."
Barbie has received a mixed reception across Asia, though for a different reason. The film was banned in Vietnam due to a scene depicting disputed Chinese territorial claims on a map. The Philippines also took issue. On the other hand, the film has reportedly seen increased screenings in China.
Source : TheGuardian